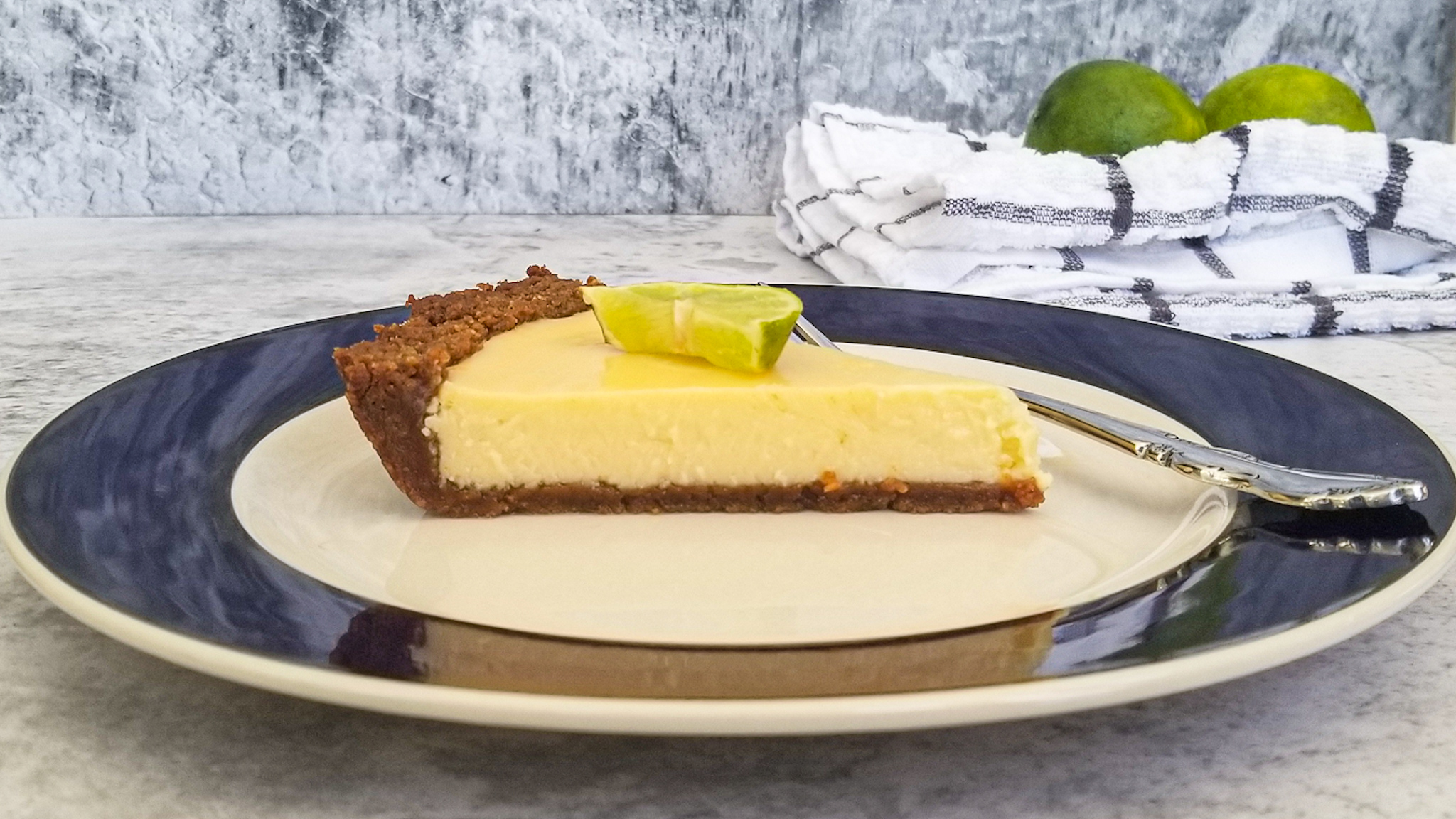 Introduction
About this Recipe
This key lime pie is a fantastic summer dessert to share with all your friends and family. The creamy texture of the pie filling and the buttery richness of the crust make for the perfect quick dessert, made with only six ingredients.
One day my house ran out of graham crackers and all we had as a substitute were ginger snaps. I decided to use these as a crust, even though it is a very non-traditional ingredient. The results were amazing! The standard graham cracker crust is not strong enough to stand up against the bold flavors of key lime pie, but the ginger snaps were perfect. You can use graham crackers or similar biscuits instead, but I urge you to try with ginger snaps.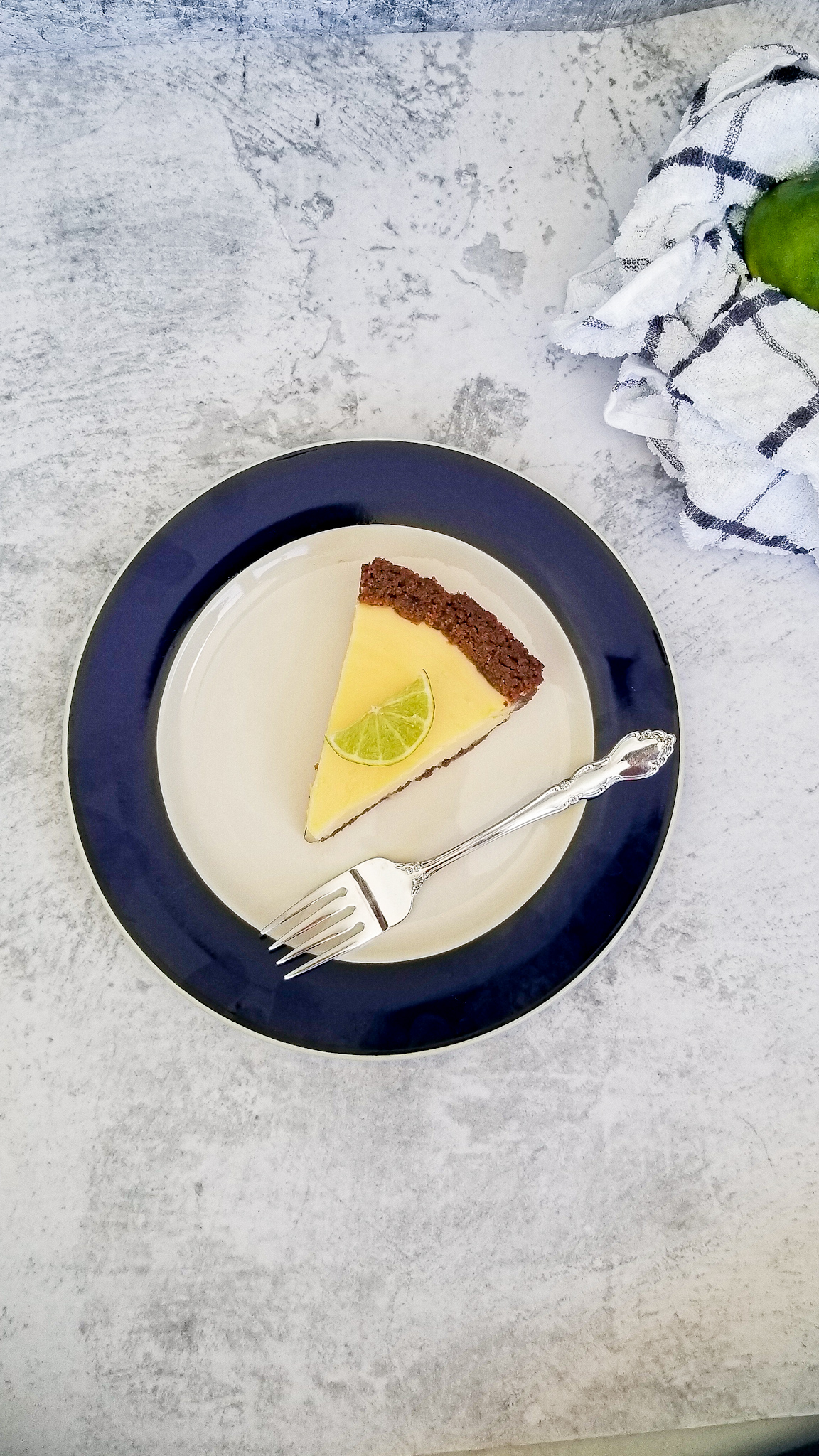 Ingredients:
Ginger snaps: provide a nice base for the pie, you can use graham crackers instead

Sugar: granulated sugar

Butter: melted unsalted butter allows for a sturdy crust

Egg yolks: bind the ingredients together

Sweetened condensed milk: use full-fat sweetened condensed milk

Lime juice: bottled key lime juice or lime juice works best
Making the crust:
Pulse the ginger snaps (or substitute with graham crackers) in a food processor or put them in a plastic bag and crush with a rolling pin until they have a texture like sand. Put the crumbs in a medium sized bowl and stir in the granulated sugar and melted butter.
Press the mixture into the base of a pie dish and up the sides. Try to get an even thickness throughout. The more compacted the crust, the better it will hold up after baking. Pre-bake the crust for 8 minutes. This allows it to become firmer.
Making the pie filling:
Beat the egg yolks and sweetened condensed milk together on high speed for 2 minutes until very well combined. Add the lime juice and continue to beat together for another 2 minutes. You can use a whisk or a hand mixer on medium-high speed. This ensures the creamy texture key lime pie is known for. The mixture will be very thick.
Baking:
Bake this pie for 15-20 minutes. You will know it is done when the center only moves a little, but the very outer edges are firm. The pie will continue to solidify as it cools. Allow the pie to cool completely then cover and chill it in the refrigerator for at least 2 hours.
Garnishes and storage:
Garnish your pie before serving with lime zest, lime slices, or whipped cream. Always keep this pie refrigerated until you are ready to serve. It will last for about 4 days in the fridge.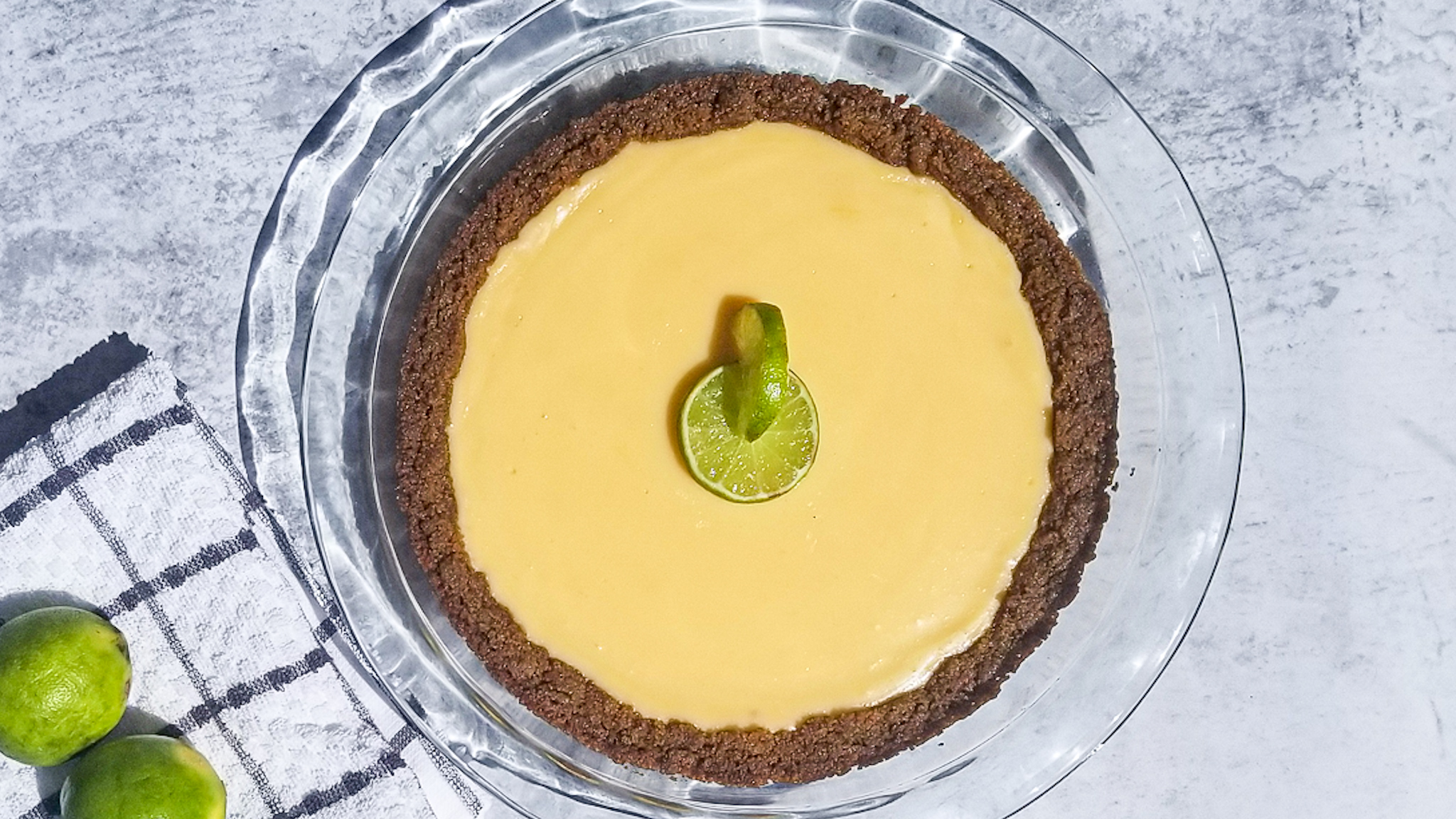 Pie Crust:
20 ginger snaps (225 g)
1 tbsp granulated sugar
6 tbsp (85 g) butter, melted
Pie Filling:
5 egg yolks
two 14 oz cans (28 oz, 795 g) sweetened condensed milk
1 cup lime juice
1. Preheat oven to 350°F (177°C).
2. Pulse the ginger snaps into crumbs or put them in a strong plastic bag and crush them with a rolling pin.
3. Pour the crushed ginger snaps into a medium bowl and stir in the melted butter and sugar until well combined.
4. Press the mixture into the base and up the sides of a 9 inch pie dish. Bake for 8 minutes. Leave the oven on.
5. Whisk together the sweetened condensed milk and egg yolks for 3 minutes until very well combined. Add the lime juice and whisk until very well combined.
6. Pour the filling into the still warm pie crust, smooth out the top, and bake for 15-20 minutes until the center is still moves slightly when touched. Allow it to cool to room temperature then put it in the fridge for 2 hours or preferably overnight. 
7. Garnish with lime zest and whipped cream and serve.