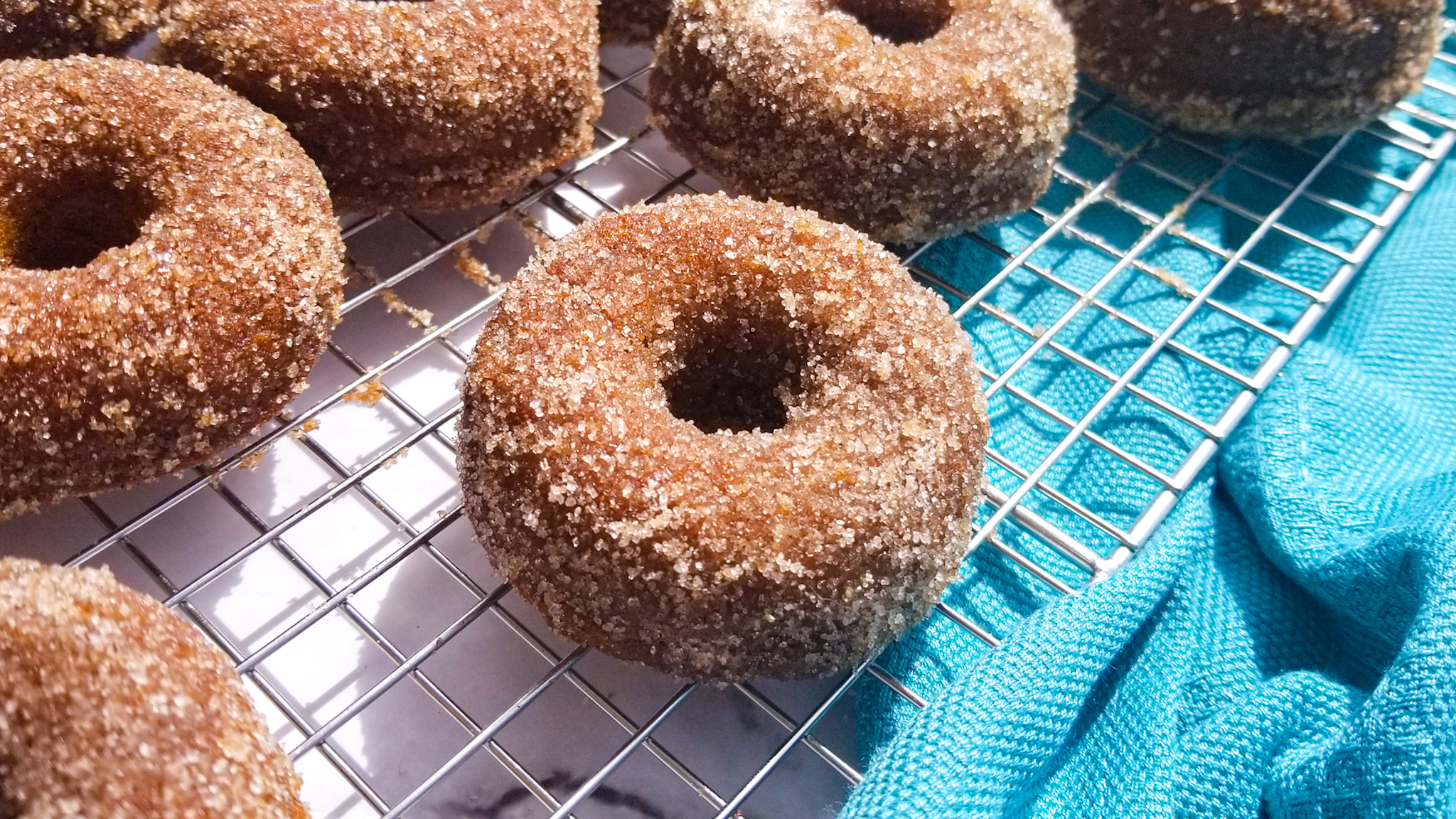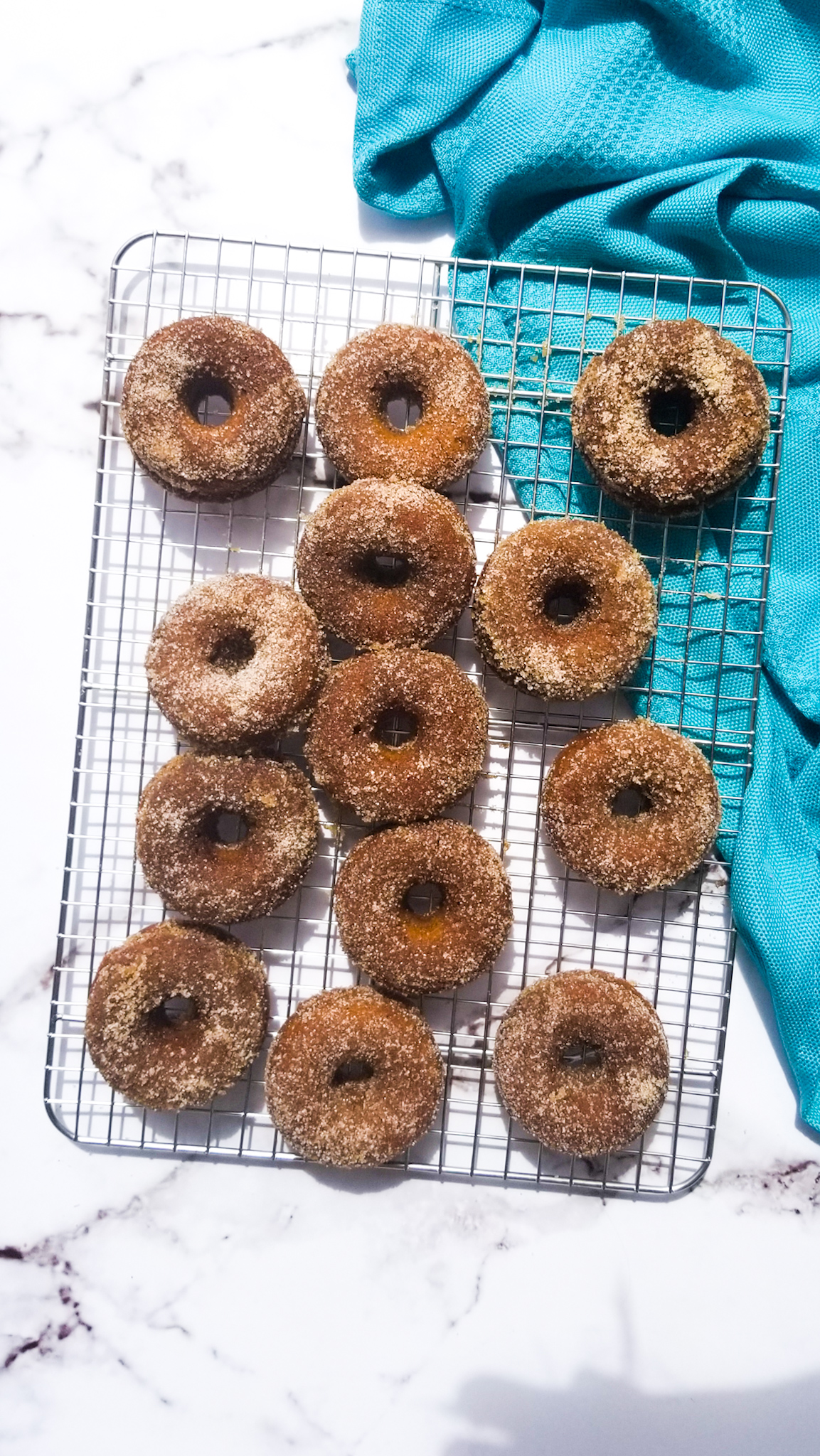 Introduction
About this Recipe
Easy to make and absolutely delicious, these pumpkin donuts are the perfect fall treat! I'm tempted to eat them year-round. They are heavily spiced, so they pack a lot of flavor. A coating of butter and cinnamon sugar is the perfect way to complete these donuts.
You will need pumpkin pie spice for these donuts. Either use store bought or make your own!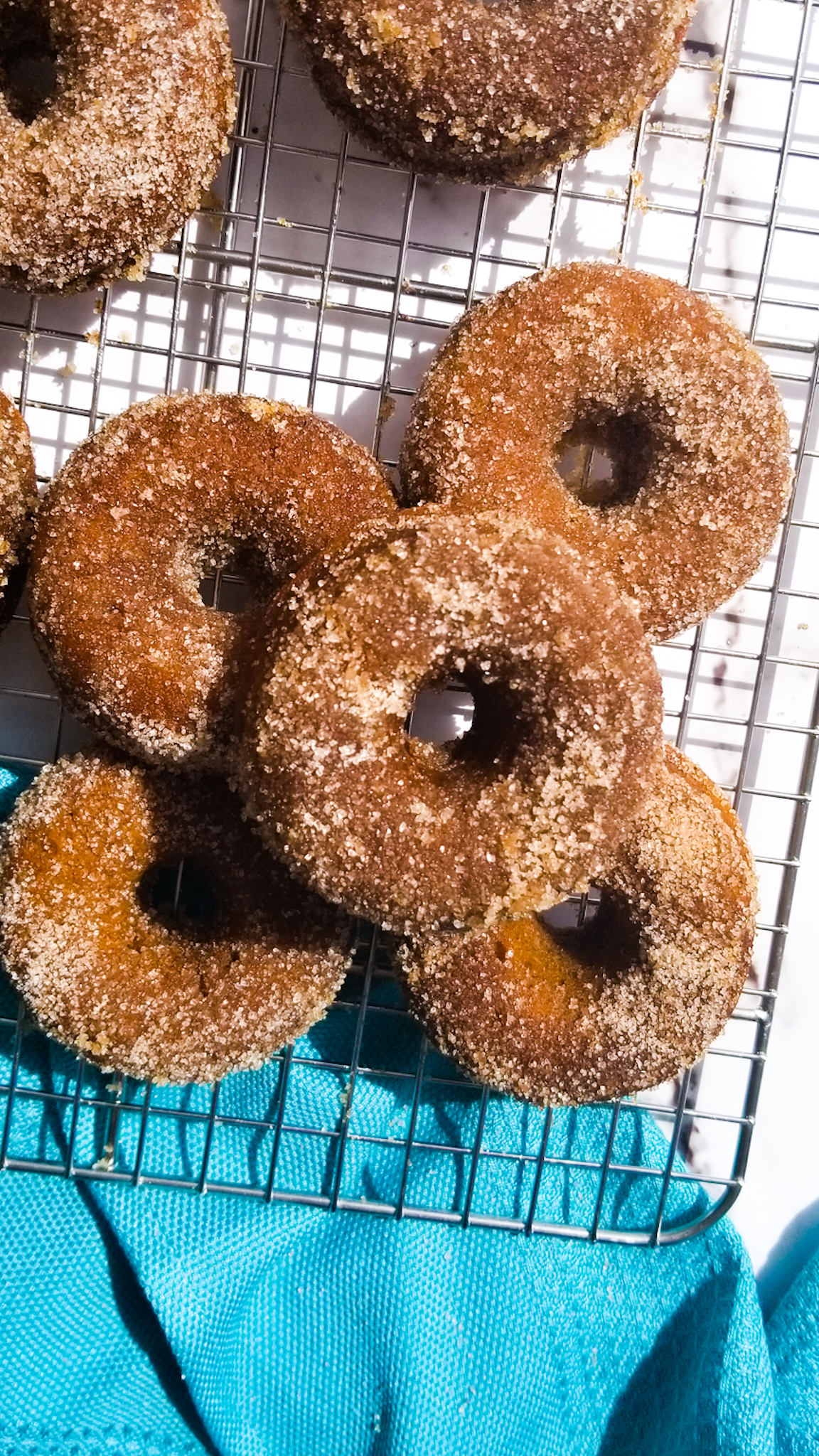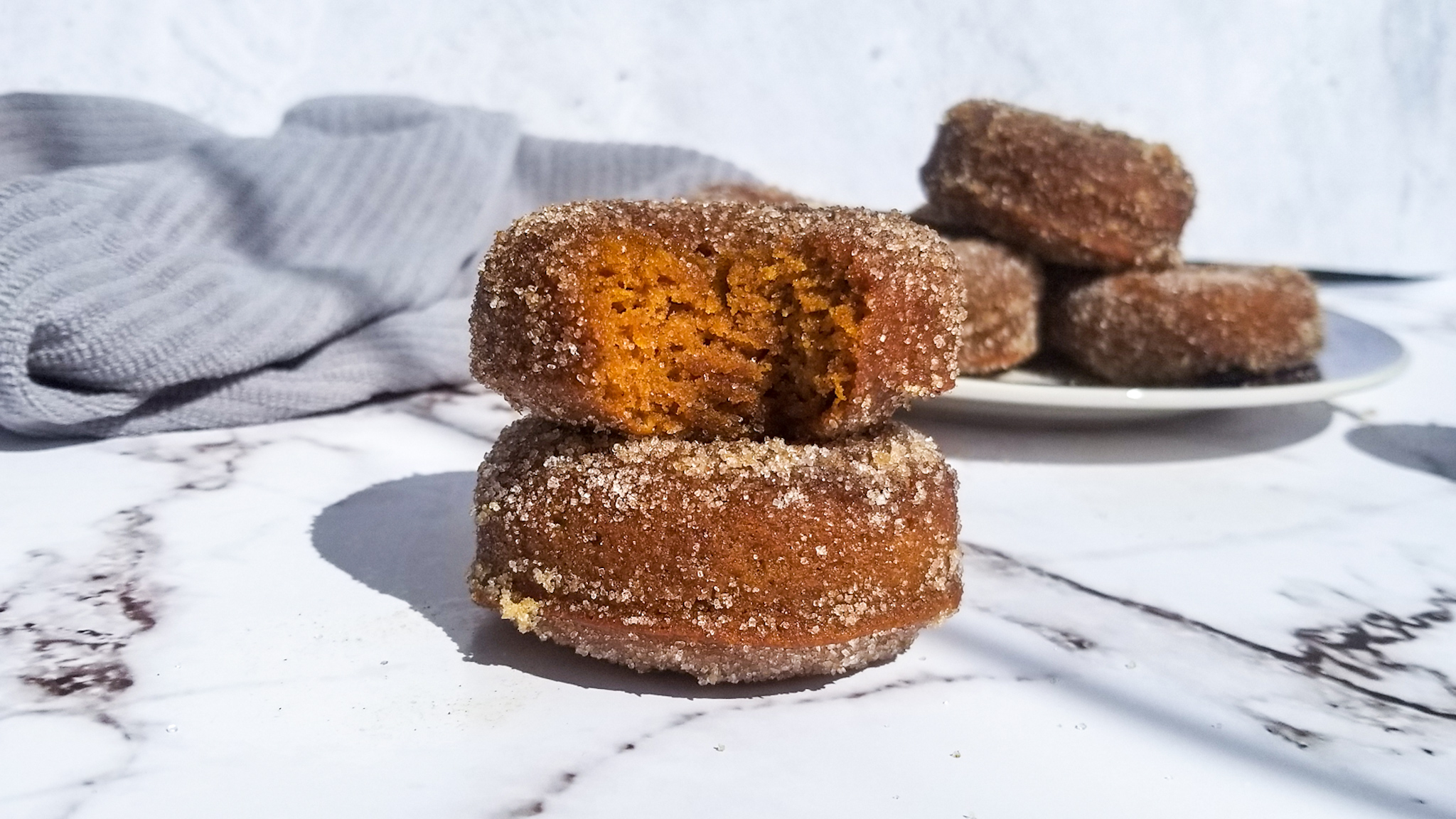 Making the Donuts:
Making these donuts is so simple and quick, no mixer is necessary. Simply combine the dry ingredients. Then combine the wet ingredients and brown sugar in a separate bowl. Then fold the mixtures together.
Fill the donut pan after greasing either with a spoon or with a plastic bag. Simply put the batter in the plastic bag and snip off the corner, then you can pipe the mixture evenly in the pan.
Baking:
Bake these donuts at 350°F (180°C) for 11-12 minutes. Once ready, you can test for doneness with a toothpick or by gently pressing your finger into the donut. If the donut springs back, they are ready.
Coating:
Coat these donuts by dunking them (once cooled) into melted butter and then coating in a mixture of sugar, cinnamon, and pumpkin pie spice.
Storage:
Store these donuts covered in the fridge for up to 5 days or at room temperature for up to 2 days.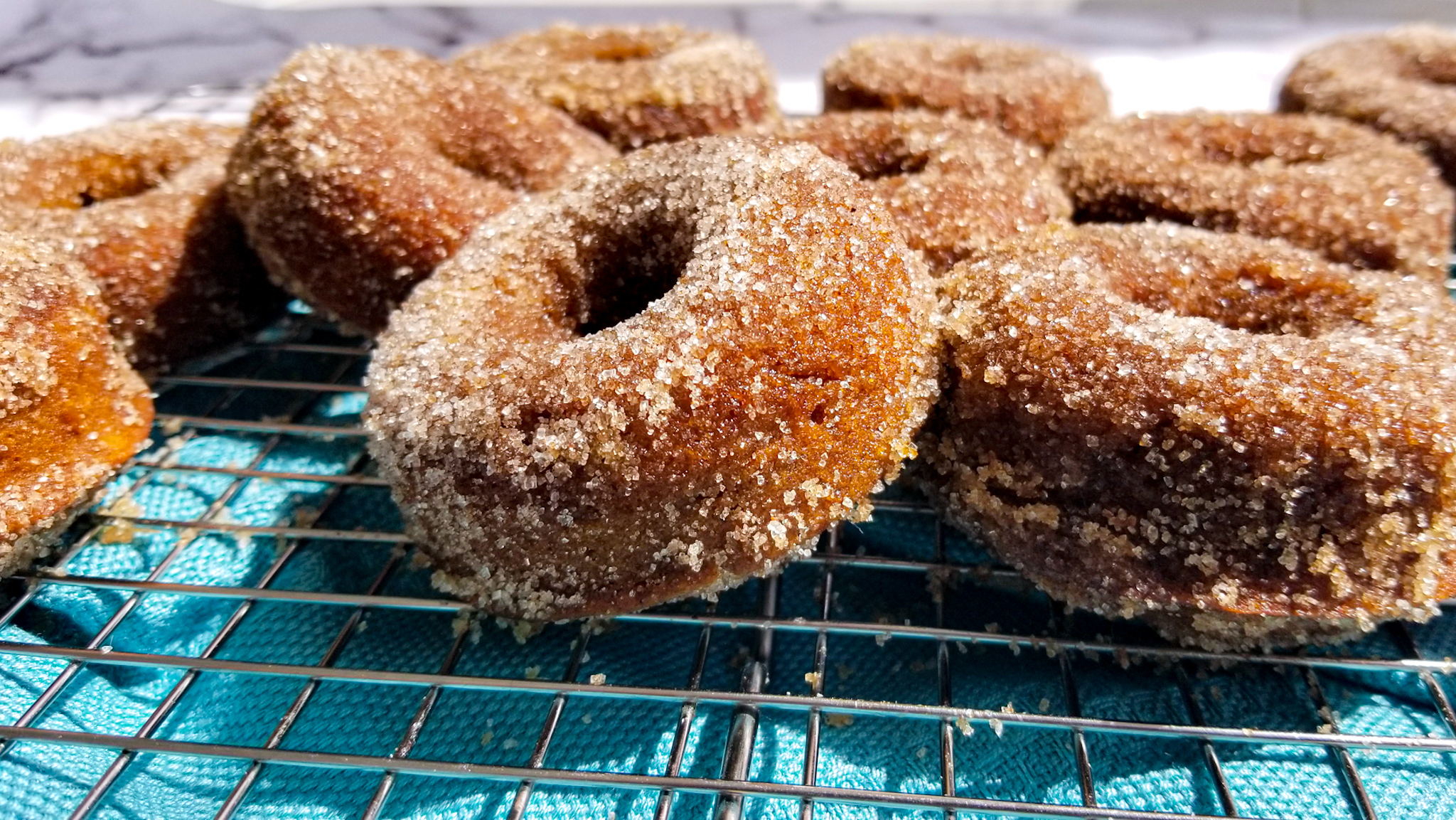 Donuts:
1 1/2 cups (180 g) all-purpose flour
1 tsp baking powder
1 tsp baking soda
1/2 tsp salt
1 tsp ground cinnamon
1 1/4 tsp pumpkin pie spice
1/4 tsp espresso powder (optional)
1/2 cup vegetable oil
3/4 cup (150 g) brown sugar
2 large eggs, room temperature
1 cup (225 g) pumpkin puree
2 tbsp molasses or treacle
1/4 cup milk, room temperature
1 tsp vanilla extract
Topping:
1 cup (200 g) granulated sugar
3/4 tsp ground cinnamon
1/2 tsp pumpkin pie spice
6 tbsp (85 g) unsalted butter, melted
1. Preheat the oven to 350°F (180°C). Generously coat the donut pan with non-stick spray.
2. In a large bowl, whisk the flour, baking powder, baking soda, salt, cinnamon, pumpkin pie spice, and espresso powder together.
3. Whisk together oil, brown sugar, eggs, pumpkin puree, molasses, milk, and vanilla extract in a medium bowl.
4. Pour the wet ingredients into the dry and fold together until just combined.
5. Spoon the batter or pipe it into the donut pan.
6. Bake the donuts for 10-12 minutes. They are ready when the edges are lightly browned and if you gently poke your finger into the top of the donut it will bounce back. Allow the donuts to cool for 2 minutes, then transfer to a wire rack to continue cooling. If needed, re-grease the pan and bake the remaining batter.
7. Mix the granulated sugar, cinnamon, and pumpkin pie spice in a medium bowl. Once the donuts have cooled down, dip them into the melted butter then coat them into the sugar-spice mix.
8. Serve immediately and enjoy!